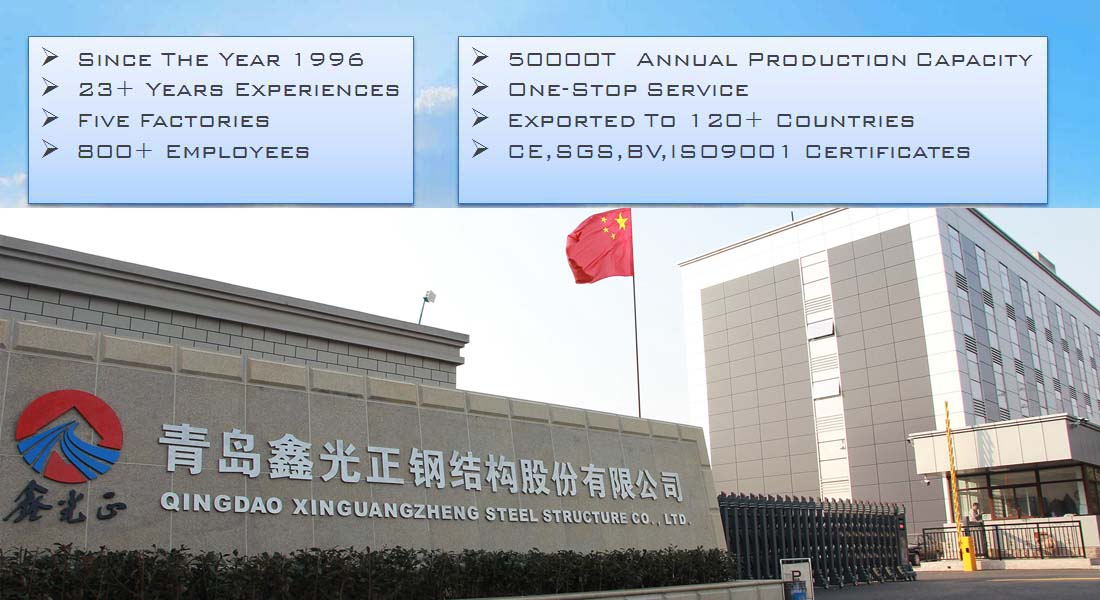 Qingdao Xinguangzheng Steel Structure Co., Ltd. is the leading steel structure manufacturing factory in China established in the year 1996. After more than 20 years of steady development, it has become a high-tech, diversified, outgoing and international company integrating steel structure fabrication,R&D, production, installation and construction with one stop service. It had been listed on the New Third Board in 2015 (stock code: 834422).
With strong technical capabilities and rich experience in steel structure field, Xinguangzheng has not only obtained the first-class qualification for professional contracting of steel structure engineering and the first-class qualification for Chinese steel structure manufacturing enterprises, but also has waterproof and anti-corrosion insulation engineering, building decoration engineering, building curtain wall engineering, and building construction. Qualifications such as general contracting are included in the modern production base of construction industry in Shandong Province. The company currently has two major business, the steel structure whole building system and the poultry whole building system, we undertakes various types of steel structure buildings and livestock husbandry breeding projects. It has participated in the project of Jiaozhou International Airport, Qingdao Metro, and Qingdao Aviation Design Institute, Huawei's small towns, Haier and Hisense, and formed strategic partnerships with large domestic enterprises such as China Construction, China Railway, New Hope Group, and Muyuan Company.
Qingdao Xinguangzheng Steel Structure Co., Ltd has the Chinese Managing Qualification of external contractor for Construction by Chinese Ministry of Commerce, and has cooperated with B&R countries long before. We face European and American markets and seek for international development path; our partners are from Canada, Australia, Germany, France, Brazil, England, America, etc., more than 80 countries around over the world.
We have chosen the industrial mode of "Steel Structure+" under the guidance of global market; created our own corporate culture system; cooperated with Universities and Institutions; brought in numerous senior technical clerks; optimized our own organizational chart in form of wheel axis; established informationized ERP management. We have also innovated automated welding- and CNC equipments; built an elaborate ISO9001 quality control system prior to our counterparts; passed the third-party Certification. We supply our clients consistently with high quality products as well as service.