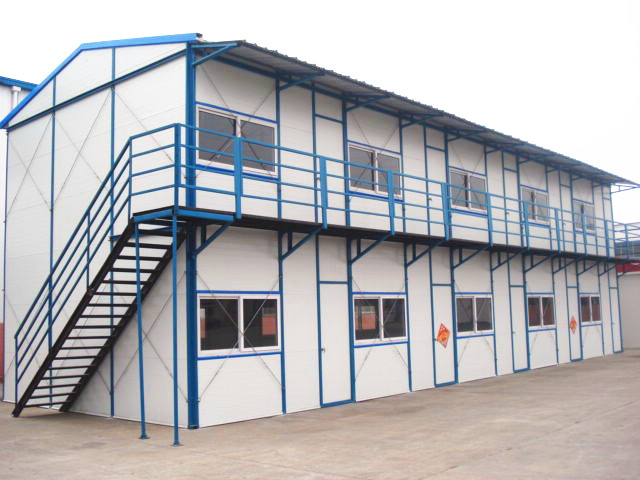 Prefabricated two floors sandwich panel house
  1. Heat preservation: Adopt heat preservation material like glass cotton or stressed plastic plate or compound heat preservation plate and they have the good heat preservation effectiveness. The sturcture form of steel structure itself in combination with all sorts of heat preservation of outside wall can effectively avoid the occurrence of " cold bridge" phenomenon and achieve better heat preservation.
2. Heat insulation: The steel structure form and the OSB plate of the outside walls are heat insulation materials; The compound type plate of the outside wall adopts high density materials for heat insulation.
3. Sound insulation: The sound insulation effectiveness of plastic steel, bridge-cut aluminium alloy, wood-aluminum and log can reach above 45 decibles.
4. Fire-resistance: The fire risitance limit can reach over four hours for the combined type walls
5. Quakeproof: Steel tube truss unexempled intergrity, the steel girder and the steel columns form flexible frames and can absorb part of the earthquake energy and can resist above 9-grade earthquake; It's suitable for the countries and regions of multiple earthquakes.
We could provide the villas anthing you want, we have the professional designers to bulid the villas according to the client's requirements.