XGZ poultry feeder, also called pan feeder, has some special design which makes the poultry feeder function well: removable cap for ease of installation, easy and positive feed depth adjustment, choice of ergonomic grills, three large feed windows, anti-rake fins, feed pan and grills form a large feed saver lip, choice of pan diameters and depth profiles, deep "V" bottom nestles into the litter during brooding, which promote feed savings and increased pan thickness in primary wear area.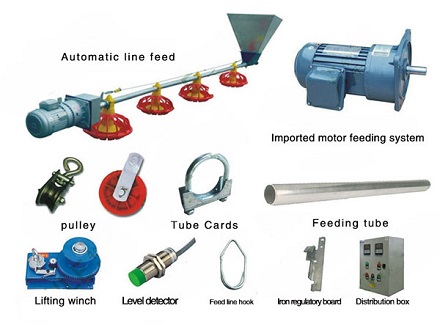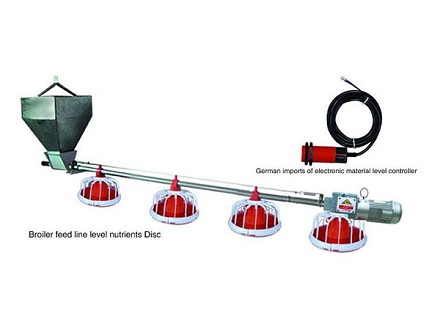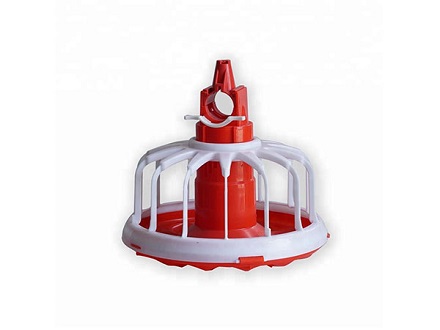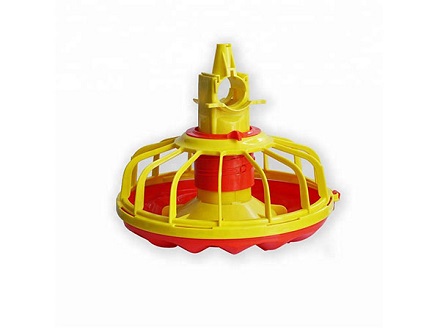 The whole feeding system is winchable. The whole feed line is height adjustable to suite for chicken growing.
During cleaning period the whole system is winch up for easy cleaning work.
1. Typical 05 feed pan has 6 feed level, can be manual and automatic adjusted. Other two feed pans have 13 level to adjust.
2. Slide shutter-off can adjust feed amount from complete open to complete close.
3. Adjusting the feeding amount of typical 05 pan convenient, fast and accurate.After pan is assembled,to hold its grill, rotate up and down and fix position when regulating.
4. Pan plate can be disassembled on the ground working as specialy pan for 0-7 day old chicken.
5. V-pan plate design can reduce feed storage at pan bottom. Bird can have fresh feed every day. This design can also prevent bird from staying on the plate too long.
6. Edge of pan plate tilt towards the center which can avoid the waste of feed.
7. Smooth edge can prevent the bird craw from hurt and make sure safety and comfort feeding.
8. Assemble type of the pan in the pipe can be fixed or swing.
Broiler Chicken Feeding System Production Description:
1. The broiler pan feeder is designed for growing broilers from day old chick till slaughter.
2. There are 13 feed levels to meet different bird age. Simple and easy to adjust feed level.
3. Unique design of pan rim shape prevents wastage of feed.
4. Smooth shape of the pan rim prevents injuries in the final grow-out period.
5. Distance between 2 pans is 750mm or customized.
6. The complete pan feeder made of pure PP with UV-resistance, very long life span.
7. Flexible grill bars make the day-old chicks can easily get in and out of the feed pan.
8. All parts can easily be cleaned by means of a high-pressure cleaner.

Feed pipe and auger
The feed pipe is made of first class hot dip galvanized sheet, zinc layer is 275g/m2, very excellet anti-rust performance and long service life.
The auger is imported from South Africa. Reliable quaity.
Feed hopper
The hopper is made of first class hot dip galvanized sheet, zinc layer is 275g/m2, very excellet anti-rust performance and long service life.
Capacity is 70kg and extension part for bigger volume is optional.
Drive unit
The moter is Taiwan Brand. Whole drive unit is very solid and reliable.
Less maintenance work needed.
Drive Motor and Delivery System
Drive Motor(Tai Wan product,with overloading protection,IP54)
Power: 0.75 Kw
Voltage: 380 v

There are many kinds of feeding systems now, but the working principle and the equipment configuration of the system are approximately the same.
web:www.structuresteelcn.com contact:+86 15966868228
steel structure manufacture